Team Building Race Games For Hire
The Human Caterpillar and Human Centipede Skis are two great new team building games that have been added to our range for the 2018 summer season. In both games two teams race against each other but success relies on teammates working and communicating together. With the Centipede Skis all teammates must lift their feet and take their steps at the same time. You can have a simple race over a straight distance or make things more interesting where the teams have to work themselves through a slalom course of poles and even includes obstacles to be stepped over and time penalties for poles or obstacles struck. With the Human Caterpillar the teammates have to work together feeding the caterpillar track around the whole team as they try to get from start line to finish line quicker than their opponents.
Human Caterpillar Racing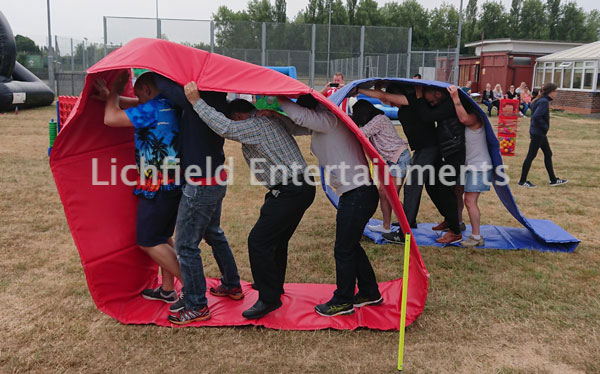 Centipede Ski Racing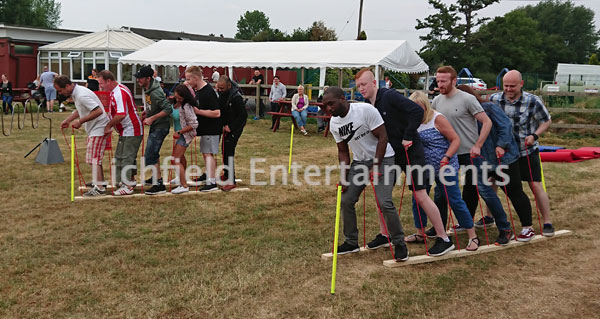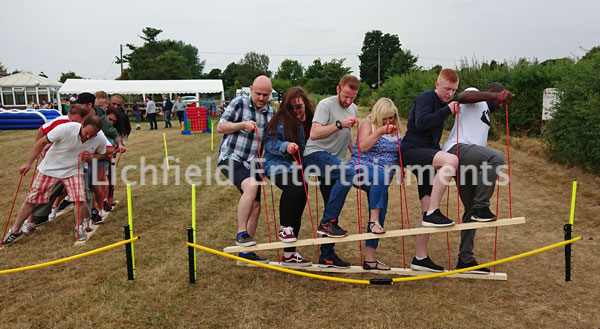 Electric Minefield Team Building Game
Electric Minefield is a team game where the aim is to get your team across the minefield mat, one person at a time, as quickly as possibly while avoiding triggering the hidden buzzer mines. Each time a team member steps on a 'mined' square and the buzzer sounds they have to leave the mat and rejoin the back of their team. Learning from the mistakes of the teammates that have gone before them the team have to gradually work out the safe route across but speaking while a player is actually on the mat is banned! The placement of the mines can be adjusted for various levels of difficulty in seconds via the control box. The game can be used as part of a structured team building event or just as a fun game - it's great for ice breaking events.
The Electric Minefield game will require an overall operating space of 12x10ft and this needs to be on a flat and solid floor.
Other Team Race Games
Our most popular hire item for outdoor team vs team events is the modular inflatable assault course. We have these available in lengths ranging from 70ft to 140ft and they can include tyre runs, crawl tunnels, scramble mattress, biff-bash, slides, and knock over flip walls. For more details please see the ADULT ASSAULT COURSES page.


We hire out our team building games to events throughout most of the UK including Birmingham and the Midlands, Buckinghamshire, Cheshire, Derbyshire, East Midlands, Gloucestershire, Leicester, London, Manchester, Nottingham, Oxford, Shropshire, Staffordshire, Wales, Warwickshire, West Midlands, Worcestershire, Yorkshire.
If you have any queries, questions, or would like to hire the games for your event please click here to enquire and we will do all we can to help.