Multi Game Inflata-Frame Games
Our Inflata-Game inflatables are available as Golf Chipping, a Coconut Shy, Mini-Archery (for normal Archery hire sessions click here), and Football Target and Speed Radar games.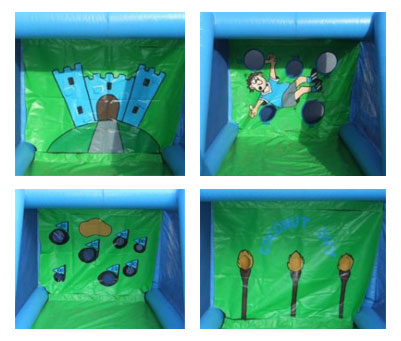 Football Penalty Shootout - Each player has three shots to score as many points as possible.
Golf Chipping - Try and chip the golf balls (air-flow or real) through the target holes. The amount of points scored depends on the size of the target hole chipped through. The inflatable is completely enclosed so you don't have to worry about stray golf balls!
Inflatable Coconut Shy - Three target holes in the coconut shy style backdrop to for participants to aim at. Enclosed inflatables means no stray balls to worry about.
Inflatable Crossbow Game - The backdrop has five clear vinyl pockets into which targets are inserted or alternatively pictures of people you want to shoot - Bosses, Politicians, and Celebrities are always popular target pictures! The Mini-Crossbows fire rubber-sucker tipped arrows for total safety.
Huge fun for Sports Days, Fun Days, family get togethers, BBQ's etc.
These games can be linked up to provide a smart looking row of games.

If you have any queries, questions or would like to book an Inflata-Frame game for your party or event, please click here to enquire and we will do all we can to help.