Grab a Grand and Ball-Nado Game Hire
Welcome to our Grab a Grand Hire page, where the thrill of catching cash in the air awaits you! At Lichfield Entertainments, we bring the excitement of the Grab a Grand game to your event. Whether it's a corporate event, an exhibition, trade show, or promotion, our Grab a Grand machine is the ultimate crowd-draw.
Imagine being surrounded by a whirlwind of cash and the exhilarating challenge of grabbing as much as you can within the allotted time. "Grab a Grand" is a sensational money-grabbing game that combines excitement and reward, creating an unforgettable experience for the participants.
With its smart chromed aluminium frame, clear perspex panels, large digital display timer and branding opportunities its an attention grabbing game that's perfect for promotions, exhibitions, and corporate events.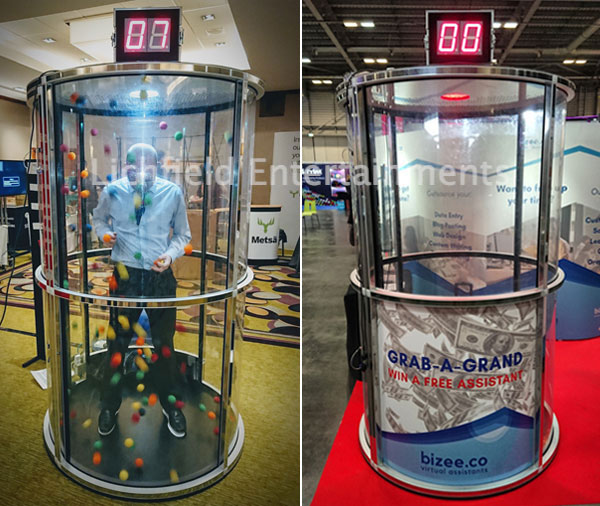 Grab a Grand game is a one player game where the participant stands inside the enclosed cylinder and tries to grab as much fun money, promotional vouchers, or if running in 'Ball-Nado' mode coloured balls, as they can within a certain time limit as they're circulated around the enclosed chamber by a high powered blower. When their time is up the quantity of cash or balls grabbed is placed on some super sensitive digital scales that will provide a result accurate to within a single note. If you're running the game as a competition we'll provide a magnetic leaderboard so you can keep track of the best scores. If you're looking at giving away multiple smaller prizes rather than a one or two larger prizes you could give away a small prize if a player grabs a set number of a certain colour ball.
The Grab a Grand game is an attention grabbing centrepiece attraction that is perfect for brand activations and promotions, exhibitions, or just as a fun interactive attraction. The lower front half panel can be branded for you if required for a small additional charge.
The game can be supplied with a friendly member of our staff who will ensure the game runs smoothly or supplied unstaffed if you have your own staff to run it - full instructions and a demonstration will be provided when we install the game.
If you are looking for a Grab a Grand or Ball-Nado as an attraction for your stand at an exhibition at the NEC Birmingham or Birmingham ICC then we're only 30 minutes away so delivery is free of charge.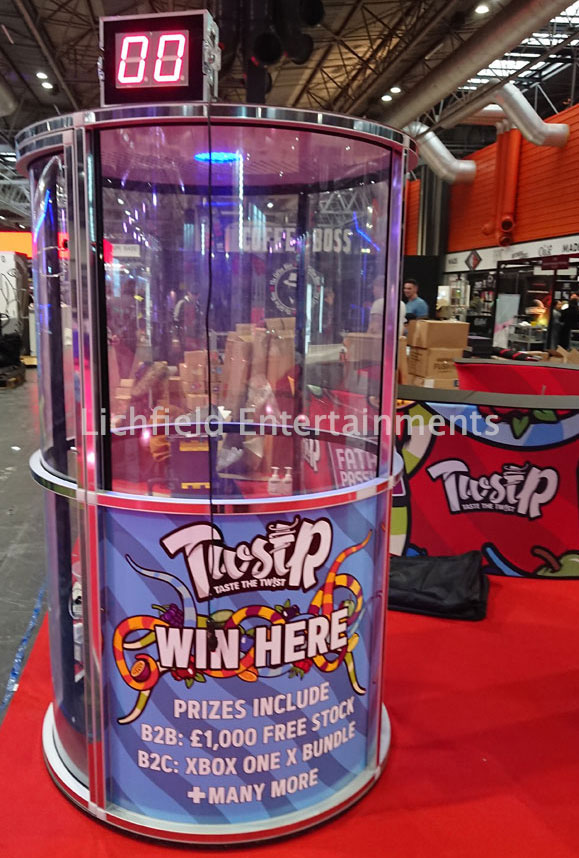 Grab a Grand Hire Details
Our Grab a Grand game requires an operational area of 6x8ft with a height clearance of 8ft.
A 240v electric supply will be required nearby.
The game can be hired from a few hours to a few days. We'll deliver and set up the game for you and run through how it works. If you'd prefer it was supplied staff then we also offer that option.
Grab a Grand - Inflatable Version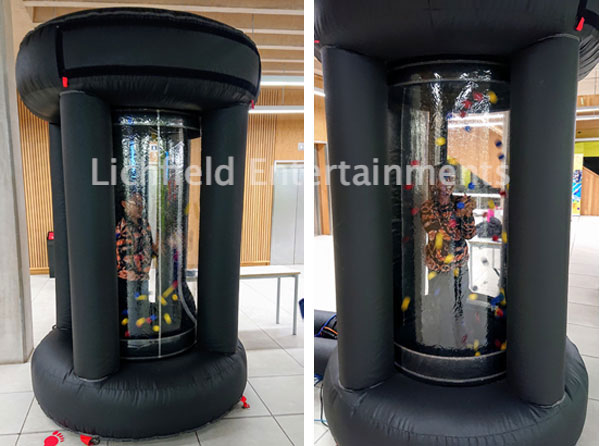 If you are working to a more restricted budget then we also have an all inflatable version of the Grab a Grand game. It can be used with either the fun money or the coloured Ball-Nado balls. This inflatable version requires a larger operating area of 7ft wide, 10ft deep, and height of 9ft 6in.

What our clients say...
'Just wanted to thank you both for your amazing efforts the other night! Everything went so smoothly and the delegates were raving about the game the next day! Our client was extremely impressed with the whole thing, so again thanks' - Rebecca
We hire out our Grab a Grand game to events throughout most of the UK including Birmingham and the Midlands, Buckinghamshire, Cheshire, Derbyshire, East Midlands, Gloucestershire, Leicester, Manchester, Nottingham, Oxford, Shropshire, Staffordshire, Wales, Warwickshire, West Midlands, Worcestershire, Yorkshire.
If you have any queries, questions, or would like to hire a Grab a Grand game for your event please contact us and we will do all we can to help.