Exhibition Stand Attractions and Games For Hire
Looking for an attention grabbing game or attraction to draw visitors on to your exhibition stand or for your brand activation? Well Lichfield Entertainments have a great range of suitable fun and games available for hire that can be supplied staffed or unstaffed and with lots of branding opportunities. With us being based in the heart of the Midlands area we have many of the major exhibition venues, especially the NEC, Telford International Centre, Ricoh Arena, NAC Stoneleigh Park, just a short drive from our base keeping delivery costs to an absolute minimum compared to many suppliers.
Reaction Speed Games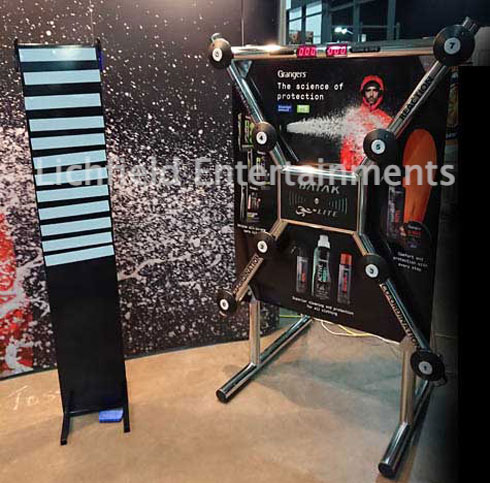 We have a selection of both one player and head to head two player reaction speed games that always draw a crowd of curious visitors on to stands. Supplied complete with a magnetic top 10 scoreboard these are perfect for competitions.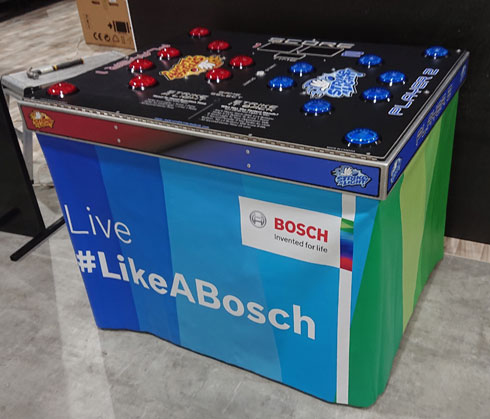 Grab a Grab and Ball-Nado Games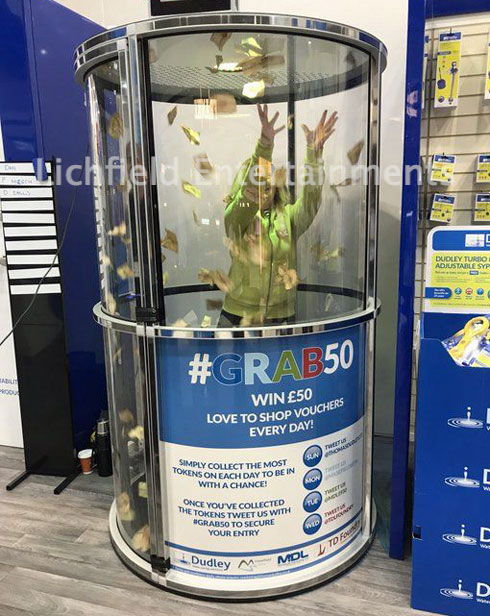 This game is available in 'Grab a Grand' mode using paper money, vouchers, or tokens or in "Ball-Nado' mode using special foam balls. Branding is available on the front lower half of the game. A top 10 magnetic scoreboard is provided to keep track of scores and make things a bit more competitive."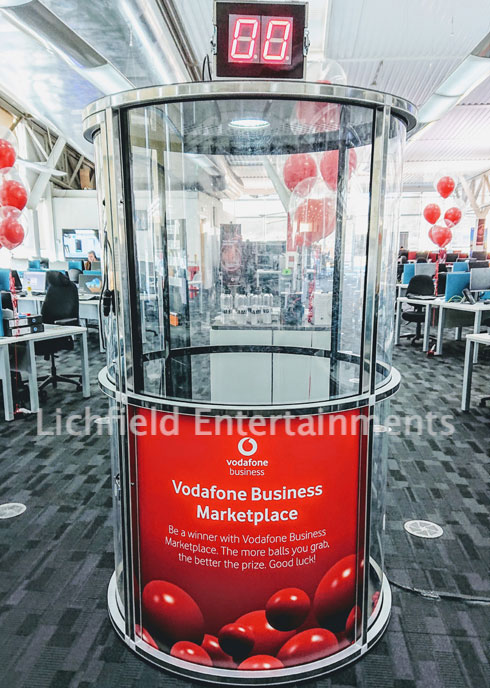 Buzzer Wires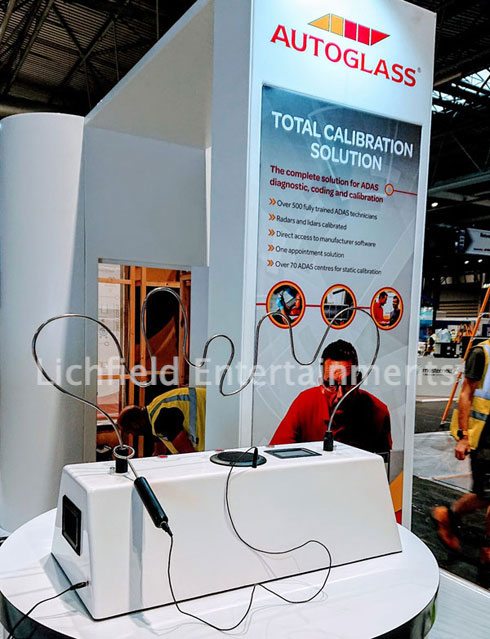 We have a range of Buzzer Wires to test the steadiness of the visitors hand. Choose from different table top models or even 10ft long floor standing versions. We have a top of the range plain white unbranded giant table top version kept exclusively for exhibition stand use where you can set the difficultly level, number of lives allowed, time permitted to complete the game, and even buzzer volume via a colour touchscreen control panel. Low-tack branding panels can be added to the table top versions. The 10ft floor standing versions are available in either grey metallic flake or plain gloss white for easy branding.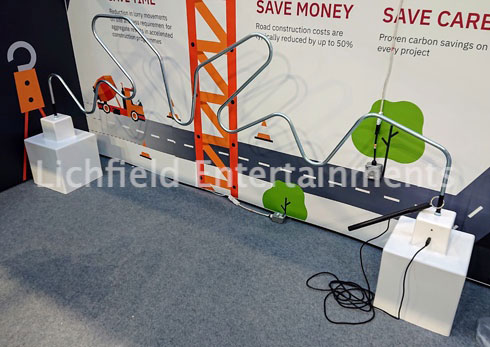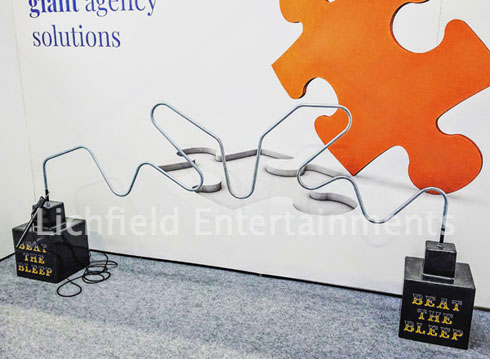 Crack the Code Clear Safe Cracker Game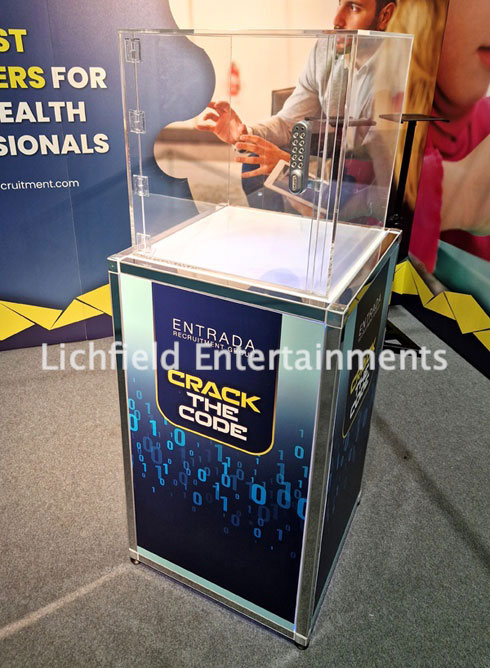 Place an attractive prize inside the clear perspex safe and in return for their contact details offer visitors to your stand the chance to win that prize by guessing/cracking the combination lock code and opening the door. The rear of the safe can be branded as can the illuminated pedestal it sits upon. A simple guess the code game for your trade stand that people can't resist having an attempt at.
Basketball Challenge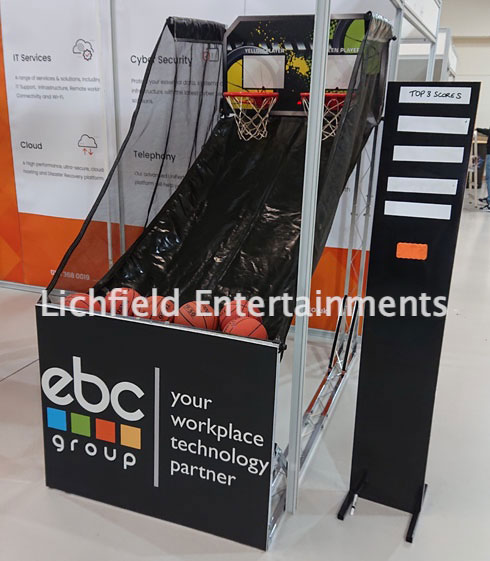 Our smart looking chromed framed Basketball Challenge game is available in either two player or four player versions with automatic scoring to record the number of baskets scored in 30 seconds.
The Vault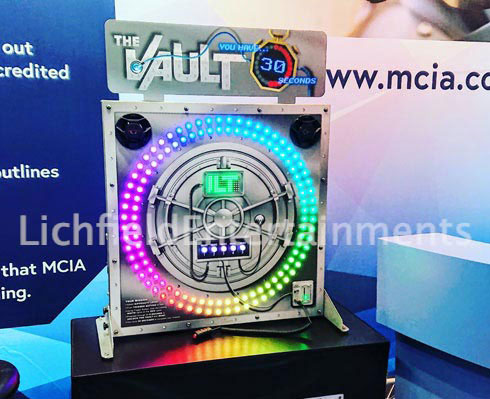 Crack the vault by stopping the orbiting white light in one of the red sectors. You need to pass through five rounds in just 30 seconds to win but each round gets tougher with the white light speeding up and the red sectors getting smaller and fewer in number. Can be set in one of four different difficulty levels depending on how hard you want to make it for participants to win.
Branded Pick n Mix Stand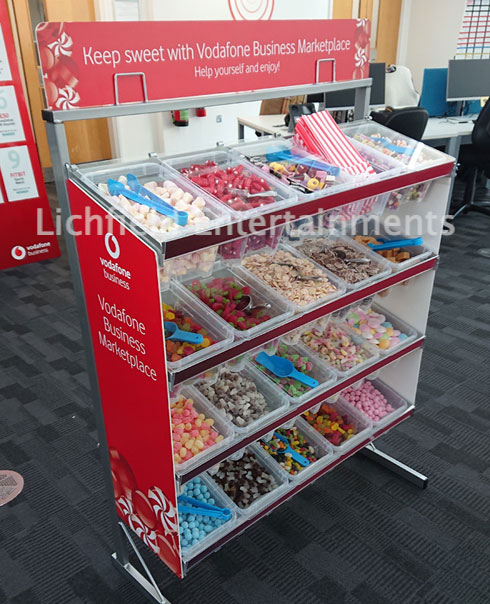 A fully branded Pick and Mix Stand is sure to attract people to your exhibition stand or promotion.
Giant Body Bits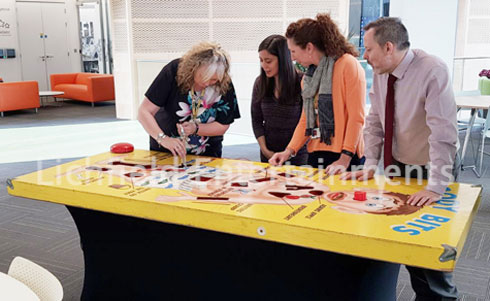 The giant Body Bits game is a massive 7ft version of the giant operating type game we all played as kids that's a favourite for medical and pharmaceutical companies. Complete with buzzer and flashing red nose! This game is great for both casual use or organised competitions. If you don't have space for the 7ft version we have a smaller 4ft option also available.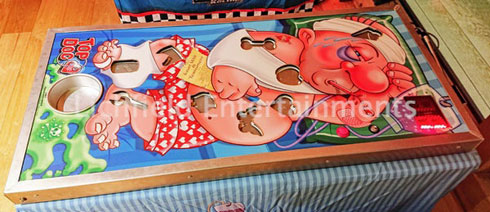 Another game that tests how steady your hand is is our Pluck a Duck game. Played by one or two players remove the five metal ducks, plus a final star, as quickly as you can using the electromagnetic wand - but touch the side and the piece will immediately drop! Features built in timers and we can supply a scoreboard to keep track of the fastest completion times.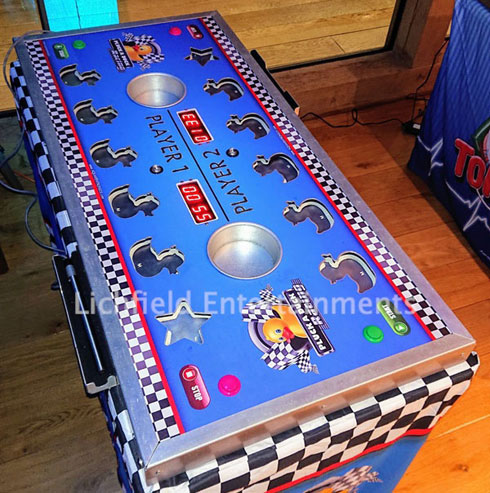 Giant Dartboards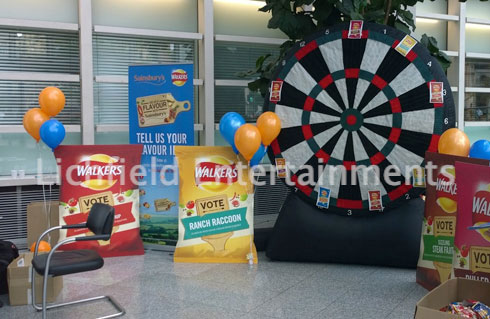 We have both giant throwing darts and football darts available although the football darts is maybe too large for most indoor exhibitions.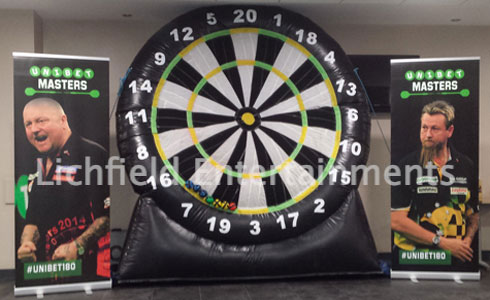 Pedal Powered Smoothie Bike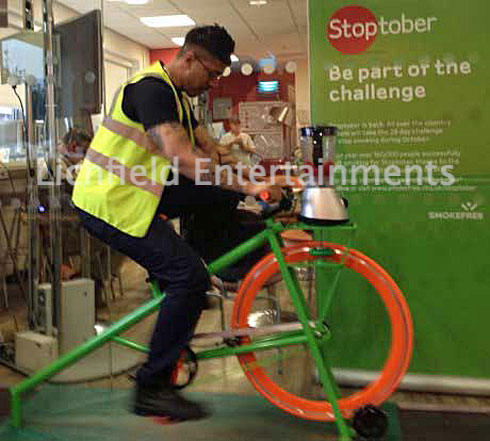 The pedal powered Smoothie Bike is a popular attraction for health based exhibitions and promotions.

For a quote and to discuss what attractions we could supply to attract visitors to your exhibition stand or brand activation please get in touch via enquiries@lichfieldentertainments.com or call on 01283 792974.