Rodeo Bull Rides and Bucking Bronco Hire in Staffordshire, Derbyshire, and the Midlands area of the UK.
Rodeo Bull Ride for hire supplied complete with rain shelter for outdoor events.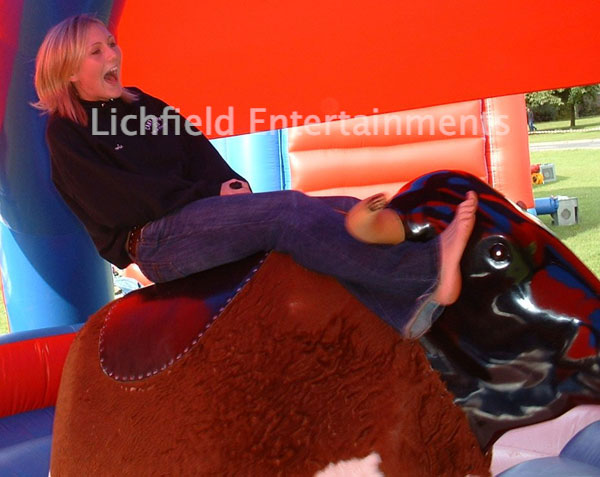 We have probably the largest choice of rodeo rides for hire in the Midlands but the traditional Rodeo Bull is still the most popular version - we also have the Rodeo Sheep, Rodeo Unicorn, Rodeo Football, Rodeo Rugby Ball, and for Christmas events the Rodeo Reindeer!
Our bucking, spinning Rodeo Bull is the perfect amusement for any Wild West themed party or event. Theres no age restriction as such but a minimum rider height of 4ft is applicable.
The Rodeo Bull is supplied with one of our trained staff members who will operate the ride for you, organise competitions, and keep track of the best times - we provide a small trophy for the best time of the event.
The Rodeo Bull can be hired for use both indoors and outdoors and a FREE inflatable marquee is provided for all outdoor events. The inflatable takes up an area of 17ft x 18ft but ideally an area a little larger than this is required. If you're hiring the Rodeo Bull for use indoors you'll need a height clearance of 9ft. If outdoors and using the inflatable marquee then you'll need an increased area of 23x23ft.
The Rodeo Bull is covered by our liability insurance with an indemnity limit of £5million. Because we operate the most recent model ride we don't have an age restriction like some older rides but instead a minimum rider height of 4ft applies.
The ride has a valid safety test (its tested annually by the manufacturer) and a Risk Assessment is available if required.
Free Floodlighting is provided for evening time rodeo events.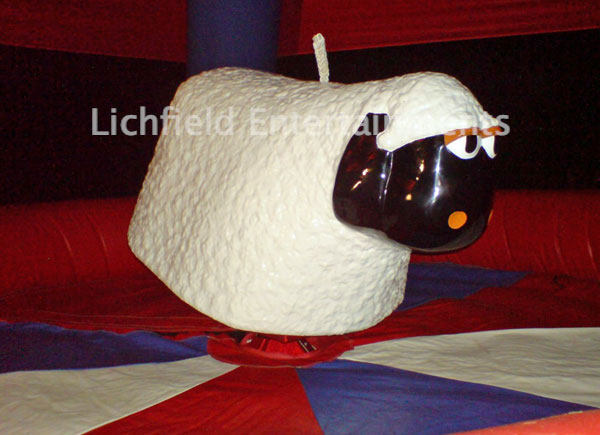 An alternative to the Rodeo Bull is the Bucking Sheep! This one always has people laughing as soon as they see it! Is it a good thing or an embarrassing thing that you can ride a Sheep longer than everyone else? Hire this ride on its own or we can bring along the Bucking Sheep attachment to any Rodeo Bull booking (at additional cost) and swap the attachments around as required.
Other rodeo rides that we have available are the Rodeo Unicorn, Rodeo Rugby Ball. Rodeo Football, and Rodeo Reindeer.

If holding a Wild West themed event also have a look at our Wild West Games.
What our customers say...
'Just wanted to let you know that the Rodeo Bull and Shooting Gallery we booked for my husbands surprise 50th birthday were wonderful. Everyone enjoyed the day (even the thunder storm towards the end of the day). Your staff were great and made sure everyone got the most from the day ensuring the children got to have a go and were safe and the competitive adults were also kept entertained. I think it was Jack who ran the shooting gallery and he was particularly good with the younger children and really made an effort to give them a go and teach them how to do it, they all loved him. Thanks again' - Sarah
The Rodeo Bull and/or Bucking Sheep Ride are available for hire at a competitive price for events in :

Alcester, Alderley Edge, Alfreton, Altrincham, Ashbourne, Bakewell, Banbury, Barnes, Bedworth, Bicester, Birmingham, Bridgnorth, Bromsgrove, Burton upon Trent, Buxton, Cambridge, Cambs, Castle Donnington, Cheadle, Cheltenham, Cheshire, Chester, Chesterfield, Chipping Norton, Cirencester, Congleton, Cotswolds, Coventry, Crewe, Derby, Derbyshire, East Midlands, East Midlands Conference Centre, Edgbaston, Evesham, Grantham, Henley in Arden, Hinckley, Holmes Chapel, Kegworth, Kenilworth, Knutsford, Leamington Spa, Leek, Leicester, Leicestershire, Lichfield, Loughborough, Malvern, Mansfield, Matlock, Melton Mowbray, Meriden, Middlewich, Milton Keynes, Nantwich, Newark, Newcastle under Lyme, Northampton, Northants, Nottingham, Oxford, Oxfordshire, Redditch, Rugby, Sandbach, Sheffield, Shrewsbury, Shropshire, Solihull, South Yorkshire, St Georges Park, Stafford, Staffordshire, Stoke on Trent, Stratford Upon Avon, Stroud, Sutton Coldfield, Telford, Telford Exhibition Centre, Uttoxeter, Warwick, Warwickshire, Welshpool, West Midlands, Wolverhampton, Worcester, Worcestershire, Worksop.
Hire the Rodeo Bull and/or Bucking Sheep Ride and we will allow a discount on any other piece of equipment hired at the same time!