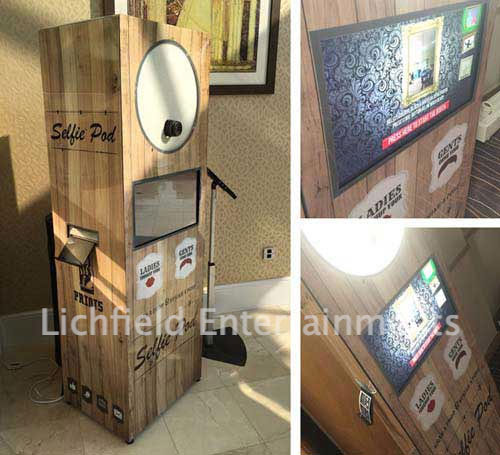 Selfie Pod Hire
Our freestanding Selfie Pod is a compact photo booth(less) system that's ideal for venues where space is limited or for larger group shots. It's as equally at home at a party or reception as it is for promotional use in a store or on an exhibition stand.
It uses the same quality DSLR camera, and professional printer as our regular booths for some great quality photos. If required we'll also include a big box of fun dress up props free of charge, and other options include a VIP style red carpet and rope and posts set.
Selfie Pod Hire Details
The Selfie Pod can be operated in a space as small as just 6x3ft but the more space you have the more people you can get in the photo.
A friendly member of staff is normally provided to help users get the best from the selfie pod and ensure its smooth running.
A big box of fun props is included free of charge.
A strapline of text can be included on all photos as can your company logo if it's a corporate event.
Social media uploading via an external ipad station can be provided with preset hashtags if required.
If you have any queries, questions, or would like to hire the Selfie Pod for your event please click here to enquire and we will do all we can to help.