RACING CAR SIMULATORS FOR HIRE
We provide Race Simulators for hire for events in Birmingham, Derby, and across the Midlands - and further afield upon request. Choose your race sim from smart race seat frames with force feedback wheels or even an inflatable F1 car.
Below is our fantastic inflatable race car simulator complete with genuine race seat, force feedback steering, and the option of auto or manual shift gears. Because it's only inflated once in situ venues with restricted access such as single doors are no problem. The simulator is supplied complete with a custom made Top gear style magnetic leader board to keep track of laps times and normally comes with a member of staff to run it on your behalf.
This simulator measures 18ft in length and 8ft 6in wide.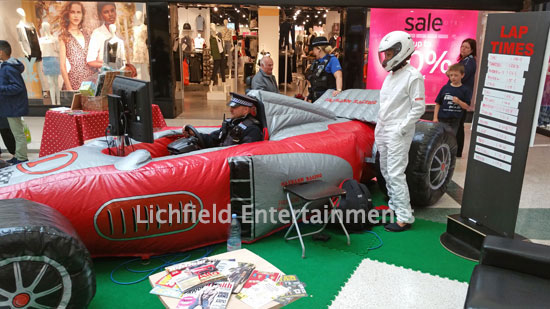 If space is an issue at your event we can supply the below frame race seat simulator with force feedback steering wheel without the inflatable car surround. We can supply these a single or pair of race simulators although they're run on a fastest lap basis and not linked together.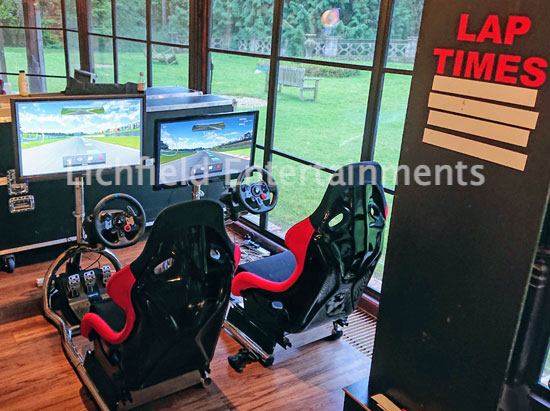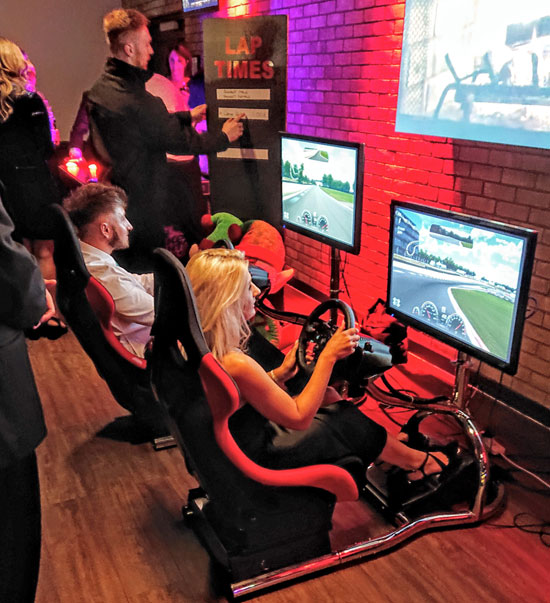 If you have any queries, questions or would like to hire one of our Race Simulators for your event, please click to enquire and we will do all we can to help.

Being based right in the heart of the UK we're perfectly situated to cover a huge area with our Race Simulator hire within just an hour or twos drive and hire out to all of the following areas for fun days, team building, fetes, and fairs:

Birmingham, Bridgnorth, Bromsgrove, Burton upon Trent, Castle Donington, Cheltenham, Cheshire, Chesterfield, Cirencester, Coventry, Crewe, Derby, Derbyshire, East Midlands, East Midlands Conference Centre, Evesham, Gloucester, Gloucestershire, Grantham, Hinckley, Kenilworth, Kettering, Leamington Spa, Leicester, Leicestershire, Lichfield, Loughborough, Manchester, Milton Keynes, Newark, Newcastle under lyme, Northampton, Northants, Nottingham, Oxford, Redditch, Rugby, Sheffield, Shropshire, Shrops, Solihull, South Yorkshire, St Georges Park, Stafford, Staffordshire, Staffs, Stoke on Trent, Stratford Upon Avon, Telford, Warwick, Warwickshire, West Midlands, Worcester, Worcestershire.