Rodeo Football Ride Hire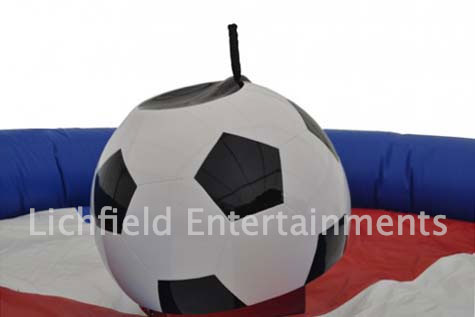 The Rodeo Football Ride is the most recent addition to our range of football themed entertainments. It uses the same motion unit as regular rodeo ride so you get exactly the same spins and tilts only the rider sits on a giant football. A great attraction for any football fans party, football awards, or other football themed event and available for hire to events across the Midlands area of the UK.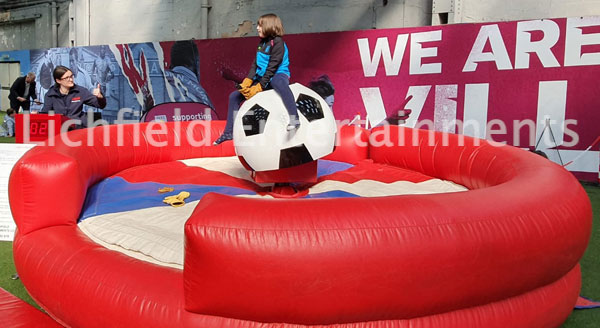 Rodeo Football Hire Details
The football ride is always supplied with a trained operator who will run the ride safely on your behalf. Unstaffed hire is not available.
All riders must be 4ft or taller and not heavier than 17stone.
If indoors you'll need a space of 17x18ft with a height clearance of 9ft. If the venue's not on the ground floor lift access will be required.
If outdoors we'll provide an inflatable weather cover free of charge and you'll need an overall space of 23x23ft.
Please note that for all events all access points such as gates, doorways, etc must be a minimum of 33inches wide for the equipment to pass through.
A mains electric supply will be required although we can supply a generator at additional cost if this is not available.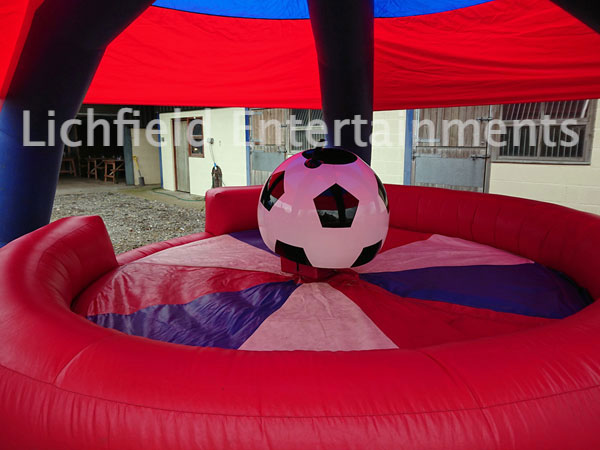 Other Football Theme Entertainments
We have a great range of other football themed entertainments including Blow Football, Giant Football Darts, Footpool, Human Table Football, Penalty Shoots, Foosball, and Speedcages. Take a look at here FOOTBALL THEMED ENTERTAINMENTS
If you have any queries, questions, or would like to hire the Rodeo Football Ride for your event please contact us and we will do all we can to help.