Reaction Speed Games for Hire - Choice of 4 Versions
We offer a range of four different reaction speed games that will challenge the hand to eye co-ordination and reaction speeds of the participants. All provide competitive but safe fun and are ideal for promotions and brand activations, conferences, and indoor fun days. If required we can supply a magnetic leader board to keep track of the best scores and make things even more competitive.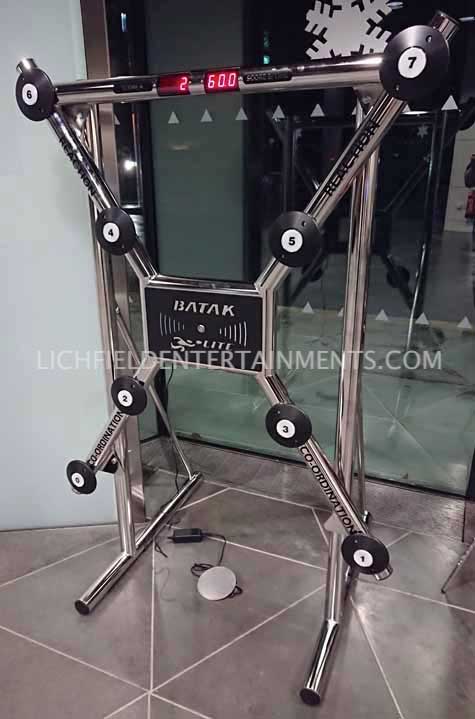 Batak Lite
Batak Lite is a single player reaction speed game where the idea is to strike as many of the eight high intensity LED targets as you can within a set time limit. The difficulty level can be varied to suit the event participants and you can choose between 30second, 60second, or even a marathon 2minute game duration.
Batak Lite needs an overall operating area of 4x5ft with a height of 6ft.
Light Chaser
Light Chaser is a 360 degree interactive reaction speed game for one player at a time.
The player stands in the middle of the four pillars each of which has three illuminating reaction pads. Upon pressing the start button overhead they then have either 30 or 60 seconds - depending on the requested game setting - to touch as many of the twelve pads as they can as they randomly light up. The further you get into the game the quicker the lights change. A countdown timer is on the front of the game so everyone can see the time ticking down and the current score is also displayed.
This game requires a level operating area of 6x6ft with a height clearance of 9ft.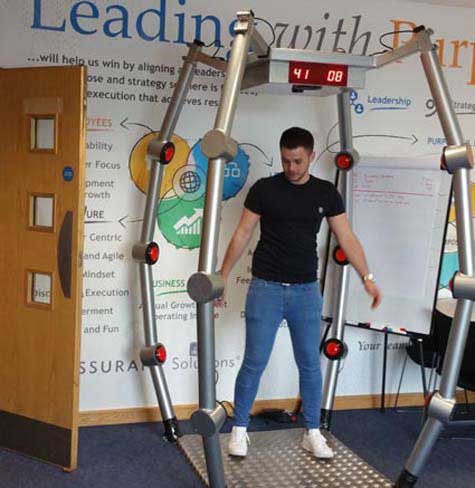 Strike a Light
Strike a Light can be played by two players head to head or one player competing alone. When in two player mode you can choose between two different game types. In the Strike a Light game option it's a straight competition to strike as many of the randomly illuminating lights as possible in 30 seconds. The second game option is a two player game called Strike it Back. In this game you race to tap a randomly illuminated light before your opponent does the same on their side, if you're first to strike it goes out on your side and lights up on the opposite players side. The first person to light up all their opponents lights is the winner.
The game requires an overall operating area of 7x4ft and access to a mains electric socket is required. The game is suitable for use by ages 8 to adult.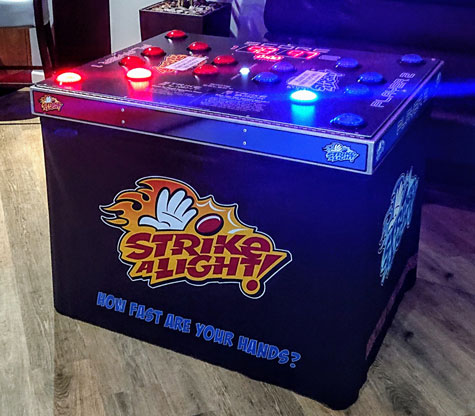 Lights Out - Two Player Reaction Speed Game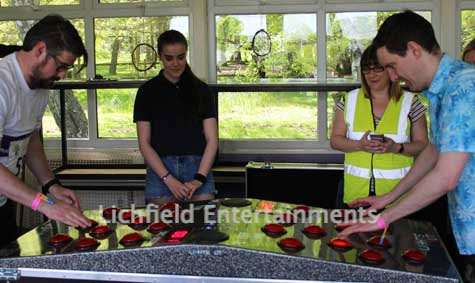 Lights Out game - our new reaction speed game. This reaction speed game can be played by two participants playing head to head against each other or one or two players playing individually. It can be set to either 30 or 60second games and it has three different difficulty levels to choose from. There are eleven targets that illuminate randomly over the set time period and you need to tap as many as you can.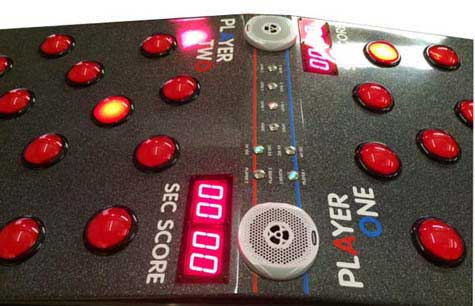 What our customers say...
'I just wanted to let you know that the guys who were with us on Friday were absolutely brilliant, totally professional but really friendly and helpful – they really made the experience thoroughly enjoyable. They are a credit to your organisation!' - Jackie
'May I just say that your lights out game today was fantastic. We will definitely be in touch about our fresher's fair later this year.' - Colin
If you have any queries, questions, or would like to hire any of our range of Reaction Speed Games for your event please click here to enquire and we will do all we can to help.