Dash and Grab Bungee Game Hire
Our Dash and Grab bungee inflatable is like a giant human version of the kids Hungry Hippos game. Four players at a time compete to grab as many balls from the centre as they can, one ball at a time, while attached to bungee ropes. The player with the most balls at the end of a set time period is the winner.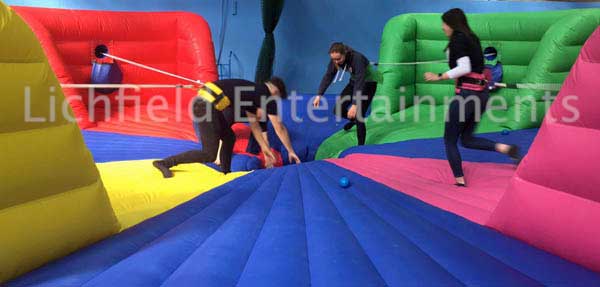 Dash and Grab Hire Details
Dash and Grab is supplied with a friendly member of staff to ensure a safe and problem free hire.
We recommend the game for ages 8 to adult. Any younger than 8 and they don't have the size or strength to stretch the ropes sufficiently.
The inflatable requires an overall operating area of 35x35ft and if being used indoors a height clearance of 12ft. If being used outdoors it must be on grass.
Access to a mains electric supply will be needed within 50metres of the game although we can supply a suitable generator or petrol engined blower for a small additional cost if there's no mains electric available.

If you have any queries, questions, or would like to book Dash and Grab for your event please contact us and we will do all we can to help.