Chillout Area Games and Furniture Hire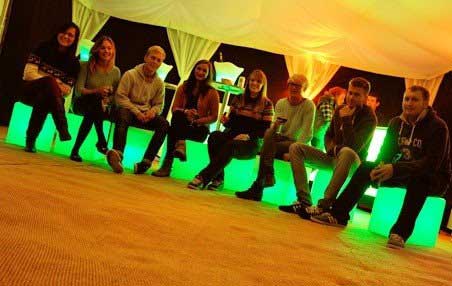 A Chillout Area is great idea for people to relax in either pre or post wedding breakfast, at a party, or after a dinner function and we've added a range of items to our range for this purpose.
We can supply supercool programmable LED cube seats that can set to match your colour theme. The cubes can be constantly illuminated, pulsing, or changing through a whole range of colours. We also have some brilliant totally wireless and self powered ambiance lighting details of which can be found HERE.
For your Chillout Area Entertainment we have Giant Games such as Jenga and Connect 4, Air Hockey Tables, Table Football, Blow Football, and Table Tennis. For Chillout Zone snacks we have our Giant Pick n Mix Stand, Popcorn machines, Candy Floss machines, and even a pedal powered Smoothy Making Bike.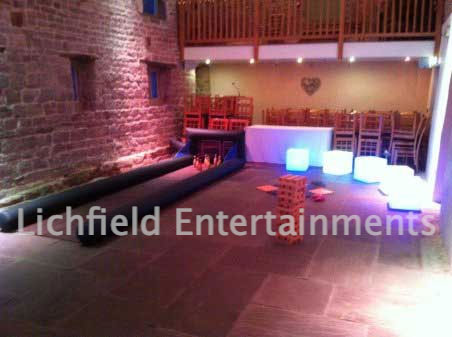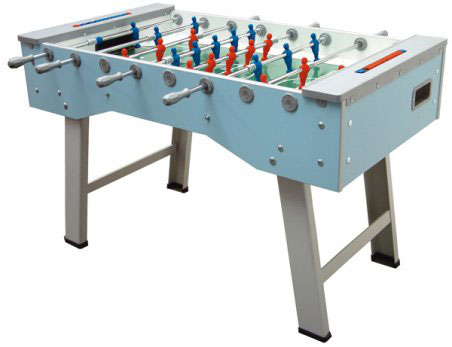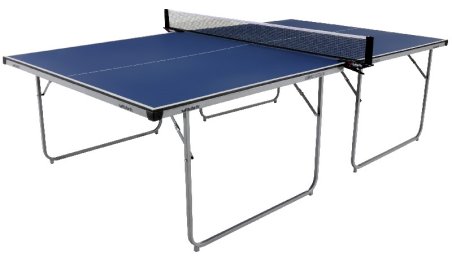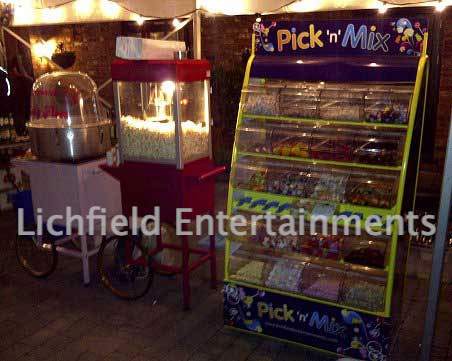 We cover a huge area of the UK for fun chill out area equipment, games, and furniture
Being based right in the heart of the UK we're perfectly situated to cover a huge area with our Chillout Zone Hire within just an hour or twos drive:

Alcester, Alderley Edge, Alfreton, Altrincham, Alvechurch, Ashbourne, Atherstone, Bakewell, Balsall Common, Banbury, Barnes, Barnt Green, Bedworth, Bicester, Birmingham, Bridgnorth, Bristol, Bromsgrove, Buckinghamshire, Burton, Burton upon Trent, Buxton, Cambridge, Cambs, Castle Donnington, Cheadle, Cheltenham, Cheshire, Chester, Chesterfield, Chipping Norton, Cirencester, Congleton, Cotswolds, Coventry, Crewe, Derby, Derbyshire, Doncaster, East Midlands, East Midlands Conference Centre, Edgbaston, Evesham, Fulham, Gloucester, Gloucestershire, Grantham, Greater London Henley in Arden, Hereford, Herefordshire, Hertfordshire, Hinckley, Holmes Chapel, Ilkeston, Kegworth Kenilworth, Kettering, Kidderminster, Knutsford, Leamington Spa, Leeds, Leicester, Leicestershire, Lichfield, Lincolnshire, London, Loughborough, Ludlow, Lutterworth, Malvern, Manchester, Mansfield, Market Drayton, Matlock, Melton Mowbray, Middlewich, Milton Keynes, Nantwich, NEC Birmingham, Newark, Newcastle under lyme, Northampton, Northants, Nottingham, Nottinghamshire, Notts, Oxford, Oxfordshire, Redditch, Ripley, Ripon, Rugby, Sandbach, Sheffield, Shrewsbury, Shropshire, Shrops, Silverstone, Solihull, South Yorkshire, St Georges Park, Stafford, Staffordshire, Staffs, Stoke on Trent, Stoneleigh Agricultural Centre, Stoneleigh Park, Stratford Upon Avon, Stroud, Sutton Coldfield, Tarporley, Telford, Telford Exhibition Centre, Uttoxeter, Warwick, Warwickshire,Welshpool, West Midlands, Whitchurch, Wilmslow, Wolverhampton, Worcester, Worcestershire, Worksop, Wythall.